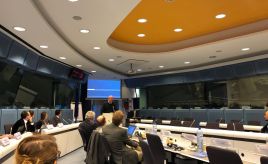 CoESS, active contributors of the EU Operators Forum
CoESS participated to the last meeting of the Operators Forum on the protection of public spaces, organised on 26-27 November. This Forum, led by the European Commission's DG HOME aims at encouraging public-private security partnerships and engaging with private operators. The project manager of AITRAP, Hugo Lücke (Palmyra Aviation Advisors) presented the EU-funded project supported by CoESS, Securitas and DHL to a wide range of stakeholders: the European Commission's DG HOME, represented by Hans DAS, the Head of the Unit in charge of terrorism and radicalisation, as well as a wide range of public spaces "operators". Representatives of public transport, entertainment, hospitality, retail, and many more, expressed their interest in the project. During the Forum, which should foster exchanges of best practice, the Commission officially announced that it would select projects for EUR 25.4 million in funding, as part of the Internal Security Fund.
During the meeting, a Commission paper on best practices for the protection of public spaces was discussed and the CoESS representatives, Wiljan van Loon (Securitas) and Catherine Piana, actively contributed in the debate. CoESS has sent detailed comments on the Commission's paper, expressing its views, and contributing positively to the debate. The CoESS comments have been circulated to the CoESS Committee Members and is available upon request.