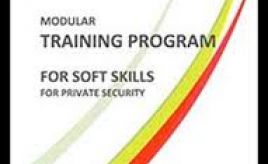 Five CoESS Members team up to create a soft skills e-learning tool
The Private security area is extremely complex and involves developing a wide range of knowledge and skills. The security worker has a number of roles, which (s)he often perceives only when (s)he is in a specific environment or event. Thus, for example, there may be a need to be "a police officer", "a lawyer", "a counselor", "a psychologist", "a fireman", "a coordinator" at a given moment.
Of course, one security worker cannot be expected to have a formal education for all these activities, and this is why the need for developing so-called transversal or soft skills is emerging. The Associations / Chambers of Private Security in 5 countries – Croatia, Macedonia, Norway, Slovenia and Romania - have teamed up and obtained EU funding from the Erasmus + Programme, in order to develop an e-learning tool about these skills.
The modules cover 3 main areas: Interpersonal Communications, Human Rights and Freedoms and Professional Stress. For these areas, 3 levels are addressed: Basic, Advanced and Training of Trainer.
For further information, please visit the platform http://trainbrainsoft.com.mk