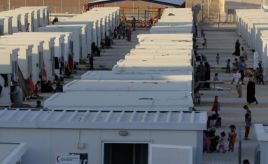 Social Partners Joint Declaration on refugees
At their sectoral Social Dialogue meeting on 2 February 2016, the Social Partners for Private Security, the UNI-Europa delegation headed by Anna Harvey and the CoESS delegation chaired by Eduardo Cobas, discussed the unprecedented refugee flow in Europe, and the ensuing increase of requested private security services and adopted a Joint Declaration. It emphasizes that the provision of private security services cannot be made at any price and stresses that the basic principles that must always drive the industry are more than ever applicable to these new situations. This includes legal requirements, in particular those applying to human rights, and to vetting/screening of agents; the public procurement rules; the need for workers to receive the adequate training and have the necessary skills to provide the different range of services linked to this phenomenon; and the need to strictly respect the health and safety of workers involved in the provision of services in this particular environment.
Finally, CoESS and UNI Europa commit to exchange their members' good practices and offer their assistance and expertise to the competent authorities responsible for managing this situation.
For the full text, please consult the CoESS website in the Activities/Social Dialogue section.