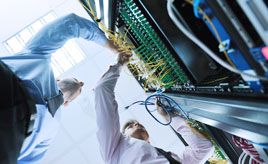 A new vision for CoESS
In the last 6 months, the Board of Directors has been working on the image, positioning and communication of CoESS. To this end, the Team launched a survey to the Members to find out how they perceive the vision, mission, values and core messages of CoESS.
The Members' feedback – both in quantity and quality – allowed the Board and Team to define these elements so that they reflect the Members' perception of CoESS, where it is today and where it should be heading.
The vision, and Website tagline are: "Acting as the voice of the Security Industry".
The main objective is "to represent and support the growth of an industry that delivers solutions of high quality and professionalism, focused on the selection and development of qualified staff and technology".
The wording "solutions", versus "services", has been chosen to reflect the recent CoESS White Paper, published at the 5th Security Summit in Berlin in April 2015, which discusses "The New Security Company". A new security industry paradigm is emerging, whereby manpower and technology are gradually merging into "security solutions".
The core values, which will run on the main page of the website like a slide show, with more details on what we mean by them are: Quality, Safety, Compliance and Trust.
Finally, the Members' feedback reflects the need for more interaction, exchanges and to the point communication. The new website, as well as the new format for publishing news is a response to this request. In the near future, CoESS will also examine the need, opportunity and feasibility of becoming more active on social media, such as LinkedIn and Twitter.
Members' feedback and experience is welcome on these initiatives. A communication working group will be set un in the first half of 2016 to evaluate the current tools and discuss the future.