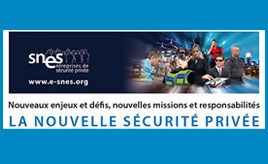 A new strategy for the French Association SNES
"The New Private Security is not a mere slogan but rather a strong reminder of our responsibilities and our commitment to shape the new profile of our industry, which enjoys increased recognition for its usefulness and legitimacy", said Jean-Louis Tripet, President of SNES, at their New Year reception on 14th January, which brought together the main stakeholders of the French Security world.
"The industry must raise to the challenges posed by the new security situation, including that of taking up future and widened missions. Another major challenge will be that of the public's social and cultural acceptance of our industry, which, as shown in the recent deadly attacks, is a full partner in ensuring the security of our society", he concluded.
The SNES also paid a tribute to the 150,000 private security agents working in France, and more particularly the two agents who were present at the Stade de France on the evening of the terrorist attacks on 13th November.