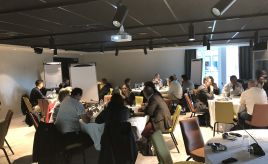 Anticipating change in Private Security - EU-funded project finalised
Exploring the drivers of change, its magnitude, timing and consequences on the private security industry's workforce in the next few years, was the objective of the joint CoESS-UNI Europa project, which was co-financed by the European Commission, and ran from January 2017 to October 2018. The project is now drawing to its completion and the deliverables will be available soon. These are: a report and a PowerPoint presentation. The report is in English, whilst its Executive Summary, as well as the PowerPoint presentation have been translated into French, German, Italian and Spanish. The idea is for the PowerPoint to be "ready for use" for the CoESS Members and UNI Europa Affiliates, so that they can start preparing for the challenges posed by change.
The private security industry faces a number of immediate and future employment challenges:
Accelerating the integration of traditional on-site guarding with remote and mobile guarding, supported by new technological solutions;
Coping with demographic change and the ageing of the workforce;
Attracting and retaining younger generations into the private security industry;
Adjusting to changes in the content of jobs as some 'tasks' disappear and new ones appear;
Adapting to a widening of missions undertaken by private security and the increasing dimensions of public–private partnerships to deliver security to citizens and businesses.
The report goes further than just identifying these challenges: it also lists concrete recommendations and guidelines for the Social Partners, so that they can anticipate and deal with change.
The report and the PowerPoint will be sent in the near future to the CoESS Members and UNI Europa affiliates.