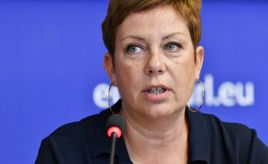 The EP Terrorism Committee adopts its final report
Following a surge in terrorist attacks throughout the UE is the past years, the European Parliament set up a Special Committee on Terrorism (TERR) in July 2016. The aim was to consult with and hear statements from the main actors involved in the EU institutions and national experts on counter-terrorism, as well as all specialists in the field, with a view to draw future recommendations.
Catherine Piana, CoESS Director General, successfully participated earlier this year in one of the hearings organised by the committee to share her expertise. She seized this opportunity to call for a framework of public-private partnerships including 3rdparty liability solutions, best value procurement and European minimum standards for critical infrastructure protection.
After several months of discussions and negotiations, the TERR committee eventually adopted its report on 14 November, presenting its findings and recommendations to the European Commission for future action. The comprehensive report addresses a wide range of topics, covering among others terrorist threat, prevention and countering radicalisation, but also cooperation and information exchange – to only name a few.
Of particular interest to CoESS, the Committee dedicated a full section to the protection of critical infrastructure, integrating the Confederation's suggestion to make wider references to port and maritime transport. In addition, the members of the Committee also considered that a European Certification Initiative for private security companies willing to operate in a critical infrastructure environment should be established.
The Parliament has confirmed the report as final during its last plenary sitting earlier this month.