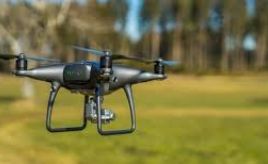 Drones: Launch of the European Network of U-space Demonstrators
Following the European Commission's presentation of a blueprint in June 2017 to make drone use in low-level airspace safe (altitudes up to 150 meters), secure and environmentally friendly, European Transport Commissioner Violeta Bulc launched this October the European Network of U-space Demonstrators at an event in Antwerp (Belgium).
The new network aims at becoming a forum to share knowledge on how to keep drone operations safe, secure and green. EUROCONTROL, EASA (European Aviation Safety Agency) and SESAR Joint Undertaking are supporting it in order to develop concrete material for U-space projects. A few weeks after the launch, the network appeared already hard at work during its first meeting where all members focused on addressing the challenges faced by business willing to deploy U-space services.
As a reminder, the U-space is defined as a system that connects all drones flying in the air and that makes all drones visible for authorities and citizens. It is based on the following basic principles:
Safe – the ambition is to develop a system similar to Air Traffic Management for manned aviation;
Automated – the system developed would enable automated and autonomous drones to fly safely;
Up and running in 2019 – although at this stage only for basic services such as registration, e-identification and geofencing.
On a side note, the European Commission, European and national authorities together with the industry adopted on 28 November the Amsterdam Declarationon drones. It calls for all stakeholders to work in parallel and with maximum cooperation on the following:
Supporting cities in their efforts to provide a fertile ground for smart mobility solutions involving drones;
Actions should focus on achieving a strong drone services market;
Regulators should timely deliver the U-space regulatory framework that is indispensable for highly automated drone flights over longer distances;
Societal concerns and local needs should always be at the forefront of all actions;
Drone and U-space technologies should evolve further by driving and prioritizing R&D drone projects.
EU technical rules on drones are expected to be adopted early 2019.