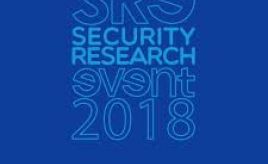 CoESS speaks at the Security Research Event
Catherine Piana was among the panel on Protection of public spaces at the Security Research Event on 5 and 6 December 2018 in Brussels. The event, which was jointly organised by the European Commission and the Austrian Ministry for Transport, Innovation and Technology, gathered 800 participants representing a wide range of security stakeholders: policy-makers, researchers, industry representatives, public security providers and practitioners.
Catherine joined a panel moderated by Mrs Eva-Maria Engdahl from DG HOME's unit dealing with terrorism and radicalisation in the European Commission, together with other public spaces security experts from the French city of Nice, the International Union of Public Transport (UITP) and ASD – the Aeronautics, Space and Defence Association.
She took the opportunity to highlight the need to buy security services based on quality criteria, rather than lowest cost, and to highlight that whilst security technology if of great importance, it must be envisaged as part of the "security solution", of which the human factor is central.
This invitation to such high level event shows the value and importance of CoESS' expertise in the European security debate.