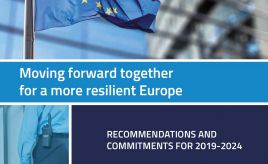 CoESS recommendations for the new legislative term
Following the election of the European Parliament and the recent proposal for the new College of European Commissioners, CoESS – together with its corresponding member ASSA-i – published 10 recommendations to the EU institutions for the new legislative term.
The document, entitled "Moving forward together for a more resilient Europe", shall support the EU institutions on delivering a fostered European Security Union in the upcoming years.
The recommendations and industry commitments touch upon a variety of important topics, notably the need for a consistent liability regime for acts of terrorism, a legal framework for the exchange of information in public-private partnerships, the lack of skilled workers, and the enforcement of best value procurement in the security sector.
With the policy recommendations, CoESS reiterates its commitment to act as a partner to the EU institutions. To support the EU in formulating future security policies, CoESS will continue to provide valuable proposals for better regulation and sharing of best practices as part of its activities in the European Commission's Expert Groups, Social Dialogue and Standardisation.
As a first step, CoESS hopes that the new European Commission will engage in an ambitious follow-up on the recently published evaluation of Directive 2008/114/EC on the identification and designation of European Critical Infrastructures. In order to improve Critical Infrastructure Protection (CIP), CoESS stresses that at least 60% of criteria in CIP procurement tenders should mandatorily be based on quality.