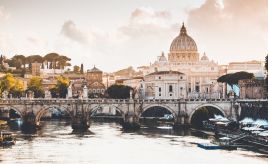 6th European Security Summit: Speaker line-up confirmed
With less than a month to go until the 6th European Security Summit takes place in Rome on 10 October, CoESS confirmed an impressive speaker line-up – including representatives of the European Union, law enforcement agencies and leaders in private security from all over Europe.
The Summit, co-organised by CoESS and FederSicurezza, will assess the environment private security stakeholders operate in today, discuss challenges to the business and evaluate the role of private security companies in the security continuum.
The speaker line-up includes:
Avv. Alberto Ziliani, Board Member, FederSicurezza
Anne-Catherine Gustafson, Ass. Chief of Police, Norway
Ard van der Steur, Chairman, Nederlandse Veiligheidsbranche, former Minister of Security and Justice of the Netherlands
Armin Berchtold, Secretary General, International Security Ligue
Bart Adam, CFO, Securitas AB
Carlo Sangalli, President, ConfCommercio
Catherine Piana, Director General, CoESS
Danny Vandormael, CEO, SERIS BENE
Eduardo Cobas Urcelay, Secretary General, APROSER
Graham Levinsohn, Regional CEO, Europe and Middle East, G4S
Hans Das, Head of the Counterterrorism Unit (D.2), Directorate-General for Migration and Home Affairs, European Commission
Javier Tabernero, Managing Director, Prosegur Security
Avv. Luigi Gabriele, President, FederSicurezza
Marc Pissens, President, CoESS
Vincenzo Acunzo, Commissario della Polizia di Stato, Italy
Wiljan van Loon, Strategic Development Director, Securitas Services Europe
Yvan De Mesmaeker, Secretary General, European Corporate Security Association (ECSA)
Together, they will reflect and elaborate on the benefits of public-private partnerships, share best practices of cooperation and provide insights into new forms of services and business models.
At the Summit, CoESS will launch a White Paper on "The Security Continuum in the New Normal", providing an overview in the evolution of private security, drivers of change that impact the industry, and best practice examples of existing models for public-private partnerships.
We will be delighted to welcome you to Rome, where the history of CoESS began 30 years ago. Please contact chantal@coess.eu to register and receive our detailed programme.